code

packaging size

price per unit

box price per unit

Code & packaging

Price per piece

code

A1278,0010

packaging size

10 g

price per unit

box price per unit

code

A1278,0025

packaging size

25 g

price per unit

box price per unit

code

A1278,0100

packaging size

100 g

price per unit

box price per unit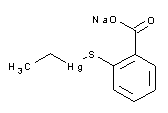 Physical Description:

Solid

Product Code:

A1278


Product Name:

Thimerosal BioChemica


Specifications:

Assay: min. 98 %
Identity: passes test
Loss on drying: max. 0.5 %


Bibliography:

(1)Swann, K. (1991) FEBS Lett. 278, 175-178Thimerosal causes calcium oscillations and sensitizes calcium-induced calcium release in unfertilized hamster eggs. (2)Miyazaki, S.-i. et al. (1992) FEBS Lett. 309, 180-184Antibody to the inositol trisphosphate receptor blocks thimerosal-enhanced Ca2\+-induced Ca2\+ release and Ca2\+ oscillation in hamster eggs. (3)Sayers, L.G. et al. (1993) Biochem. J. 289, 883-887The effects of thimerosal on calcium uptake and inositol 1,4,5-trisphosphate-induced calcium release in cerebellar microsomes. (4)Missiaen, L. et al. (1991) Nature 352, 241-244Spontaneous calcium-release from inositol trisphosphate-sensitive calcium stores. (5)Hecker, M. et al. (1989) Biochem. Biophys. Res. Com. 159, 961-968The sulfhydryl reagent thimerosal elicits human platelet aggregation by mobilization of intracellular calcium and secondary prostaglandin endoperoxide formation.

Hazard pictograms

UN:

2025


Class/PG:

6.1/II


ADR:

6.1/II


IMDG:

6.1/II


IATA:

6.1/II


WGK:

3


Storage:

RT
protected from light


Signal Word:

Danger


GHS Symbols:

GHS06
GHS08
GHS09


H Phrases:

H300+H310+H330
H373
H410


P Phrases:

P260
P301+P310
P320
P330
P361+P364
P405
P501


EINECS:

200-210-4


CS:

28521000


Index Nr.:

080-004-00-7

Download TDS file for complete specifications