code

packaging size

price per unit

box price per unit

Code & packaging

Price per piece

code

141683.0914

packaging size

5 kg

price per unit

box price per unit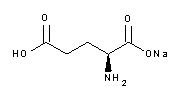 Melting Point:

225 - 240 °C


Solubility:

Soluble in water.


Physical Description:

solid

Product Code:

141683


Product Name:

Sodium L-Glutamate 1-hydrate (USP-NF) pure, pharma grade


Quality Name:

pure, pharma grade


Specifications:

Assay (Perchl. Ac.): 99.0-100.5%
Identity according to Pharmacopoeias:: passes test
pH of 5% solution: 6.7-7.2
Specific rotation α 20/D c=10 (in HCl 2 mol/l): +24.8 - +25.3°

Maximum limit of impurities
Insoluble matter in H2O: 0.05 %
Loss on drying at 100°C: 0.5%
Chloride (Cl): 0.2%
Sulfate (SO4): 0.05%
Clarity and colour of solution: passes test
Residual solvents (Ph.Eur/USP): passes test
As: 0.00015 %
Cu: 0.001 %
Fe: 0.001 %
Ni: 0.001 %
Pb: 0.001 %
Elemental impurities according to the ICH Q3D guide: Cadmium and Lead can be present below 1 ppm. The rest of the elements of class 1-3 are not likely to be present above the limits of ICH Q3D option 1.

WGK:

2


Storage:

Room Temperature.


Master Name:

Sodium L-Glutamate 1-hydrate


Synonyms Long Text:

(S)-(+)-2-Aminoglutaric Acid mono-Sodium Salt, (S)-Glutamic Acid mono-Sodium Salt


EINECS:

205-538-1


CS:

29224200

Download TDS file for complete specifications