code

packaging size

price per unit

box price per unit

Code & packaging

Price per piece

code

191704.0914

packaging size

5 kg

price per unit

box price per unit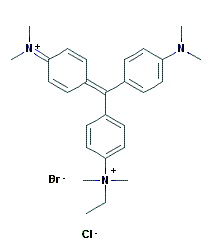 Solubility:

water 70 g/l at 25 °C
alcohol 1 g/l


Physical Description:

solid

Product Code:

191704


Product Name:

Methyl Green (C.I. 42585) (Ph. Fr.) pharma grade


Quality Name:

pharma grade


Specifications:

Assay (as Zn) calc. a.d.s.: 5.0-7.5 %
Identity according to Pharmacopoeias:: passes test

Maximum limit of impurities
Loss on drying at 105°C: 10.0%
Elemental impurities according to ICH Q3D guide: No metal catalysts are used in the manufacturing process. Class 1-3 elements are not likely to be present above the limits of ICH Q3D option 1.

WGK:

3


Storage:

Room Temperature.


Master Name:

Methyl Green (C.I. 42585)


EINECS:

238-920-1


CS:

32041300

Download TDS file for complete specifications