code

packaging size

price per unit

box price per unit

Code & packaging

Price per piece

code

Z42312.0716

packaging size

25 l

price per unit

box price per unit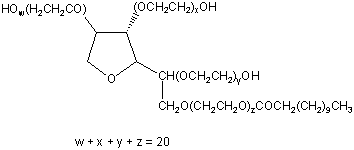 Boiling Point:

> 100 °C


Density:

1.105 kg/l


Solubility:

water 100 g/l at 25 °C


Refractive Index:

20/D 1.4735


Physical Description:

liquid

Product Code:

Z42312


Product Name:

Tween® 20 (RFE, USP-NF, BP, Ph. Eur.) pure, pharma grade


Quality Name:

pure, pharma grade


Headline Comment:

(® Registered trade-mark of ICI)


Specifications:

Identity according to Pharmacopoeias:: passes test

Maximum limit of impurities
Residue on ignition (as SO4): 0.2 %
Acidity value: 2.0
Hydroxyl value: 96-108
Iodine value: 5
Peroxide value: 10.0
Saponification value: 40-50
Composition of fatty acids: passes test
Total ashes: 0.25%
Residual solvents (Ph.Eur/USP): passes test
Dioxan: 0.001%
Ethylene Oxide: 0.0001%
Reducing impurities: passes test
Water (H2O): 3.0 %
Heavy metals (as Pb): 0.001%
As: 0.0001 %
VEGETABLE ORIGIN.

WGK:

1


Storage:

Storage away from direct light.


Master Name:

Tween® 20


Synonyms Long Text:

Polyoxyethylene 20 Sorbitane mono-Laurate, Polysorbate 20


EINECS:

500-018-3


CS:

34021300

Download TDS file for complete specifications