code

packaging size

price per unit

box price per unit

Code & packaging

Price per piece

code

141531.1211

packaging size

1000 g

price per unit

box price per unit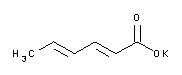 Melting Point:

270 °C


Solubility:

water 1.95 g/l at 20 °C


Physical Description:

solid

Product Code:

141531


Product Name:

Potassium Sorbate (BP, Ph. Eur.) pure, pharma grade


Quality Name:

pure, pharma grade


Specifications:

Assay (Perchl. Ac.) calc. a.d.s.: 99.0-101.0%
Identity according to Pharmacopoeias:: passes test

Maximum limit of impurities
Appearance of solution: passes test
Acidity or alkalinity: passes test
Loss on drying at 105°C: 1.0%
Residual solvents (Ph.Eur/USP): passes test
Aldehydes (as CH3CHO): 0.15%
As: 0.00015 %
Cd: 0.00005 %
Hg: 0.00015 %
Pb: 0.001 %
The product is fully in compliance with the ICH Q3D guideline (Guideline for elemental impurities).

Hazard pictograms

WGK:

1


Storage:

Storage away from direct light.


Signal Word:

Warning


GHS Symbols:

GHS07


H Phrases:

H319


P Phrases:

P264
P280
P302+P352
P305+P351+P338
P337+P313


Master Name:

Potassium Sorbate


Synonyms Long Text:

2,4-Hexadienoic Acid Potassium Salt, Potassium 2,4-Hexadienoate, Sorbic Acid Potassium Salt


EINECS:

246-376-1


CS:

29161995

Download TDS file for complete specifications