code

packaging size

price per unit

box price per unit

Code & packaging

Price per piece

code

A3930,0100

packaging size

100 g

price per unit

box price per unit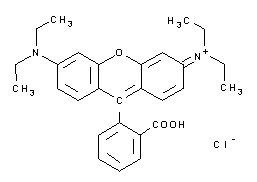 Solubility:

34 g/L (H2O)


Physical Description:

Solid

Product Code:

A3930


Product Name:

Rhodamine B (C.I. 45170)


Specifications:

Assay (photometr.): min. 90 %
λmax. (50 % EtOH): 550 - 552 nm
E 1 %/1 cm, λmax.: 2115 - 2350
pH (0.5 %; H2O; 20°C): approx. 2.0
Loss on drying: max. 5 %
UV/VIS spectrum: passes test


Comment:

The mixed-dye staining method of proteins in polyacrylamide gels with Eriochrome black T in combination with Rhodamine B can detect as little as 10 ng of BSA within one hour (1) and is more sensitive than Coomassie®-staining. The optimum dye concentration of Eriochrome Black T was determined to be 0.01 %. Protein bands were scanned at 560 nm by densitometer. Rhodamine B was employed at the same concentration (0.01 %). Staining solution was prepared by mixing stock solutions of Eriochrome Black T (0.02 % (w/v)) and Rhodamine B (0.02 % (w/v)) in 40 % methanol/7 % acetic acid in a ratio of 1 : 1 (v/v) just prior to use. Besides sensitivity, another advantage of the mixed-dye staining method over Coomassie® is the stability of the staining pattern after drying (60°C, 30 min; ref. 1).


Bibliography:

(1)Jung, D.-W. et al. (1998) Anal. Biochem. 263, 118-120Detection of Proteins in Polyacylamide Gels Using Eriochrome Black T and Rhodamine B.

Hazard pictograms

WGK:

2


Storage:

RT


Signal Word:

Danger


GHS Symbols:

GHS05
GHS07


H Phrases:

H302
H318
H412


P Phrases:

P273
P280
P301+P312
P305+P351+P338
P310
P330


EINECS:

201-383-9


CS:

32041300

Download TDS file for complete specifications