Column Chromatography is essential to isolate and/or purify compounds of interest from sub-products or unwanted substances made up during the synthesis reaction.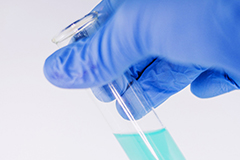 To obtain a correct separation is basic to choose the mobile phase and column packing. Physical properties of the substances to be separated must be considered and then the mobile phase and the appropriate adsorbent (polarity) have to be chosen. Purity of the mobile phase is very important in order to avoid potential interferences (phthalates, etc) in final isolated product analysis.
ITW Reagents has high purity distilled solvents strictly controlled by gas chromatography for preparing the mobile phase. The accurate production process and quality control make them ideal for their use in Column Chromatography because they guarantee a minimum level of impurities that could interfere in the final product.
The choice of adsorbents is another important previous requirement for a successful separation in Column Chromatography (CC). The quality of the packing is very important because it must keep chromatographic properties, it must not transfer interferences and must be reproducible batch to batch. We offer you a full range of adsorbents for CC fulfilling the highest requirements in this application.