The most commonly used stains are available in ready-to-use solutions, complemented by over 30 powdered dyes for preparation of any kind of stain with maximum flexibility.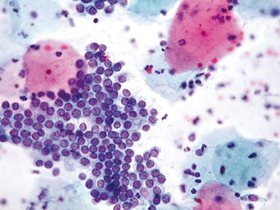 All the dyes are subjected to stringent quality control, to ensure maximum reproducibility in the preparation of the stains, preventing colour differences between different preparations. This is particularly important for prepared solutions, where the concentrations of dye or pH are specifically controlled, in order to ensure maximum contrast and homogeneous colour brightness lot after lot, with special emphasis on the different available formulations of hematoxylin-eosin and Papanicolau dyes for cytological studies.
The range includes different Kits: Gram staining in microbiology, Fast staining in haematology, Kit for staining Reticulin fibres, PAS staining and Masson's Trichromic staining.