Ready-to-use media are sterile media already prepared and made in a clean room under laminar flow ISO 7 (Class C).
Standard packing: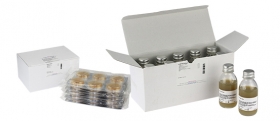 Boxes of 20 units for 90 mm Petri dishes with a typical shelf life of 90 days.
55 mm plates prepared with a solid medium to be used in the membrane filtration technic. These plates come in a redipack of 10 plates each and boxes of 30. Shelf life: 6 months
55 mm contact plates for surfaces testing. Shelf life: 6 months.
Tubes with solid and liquid media suitable for microwave and re-melting in boxes of 20 units with a shelf life of 12 months.
Flasks and Bags with diluents for laboratories of microbiological food control. Shelf life: 9 months.